A Lecture on "International Criminal Law: Foundation, Development and Future" -2nd Session of Law Lecture Series held by Department of Law at East West University
---
Mar 03, 2020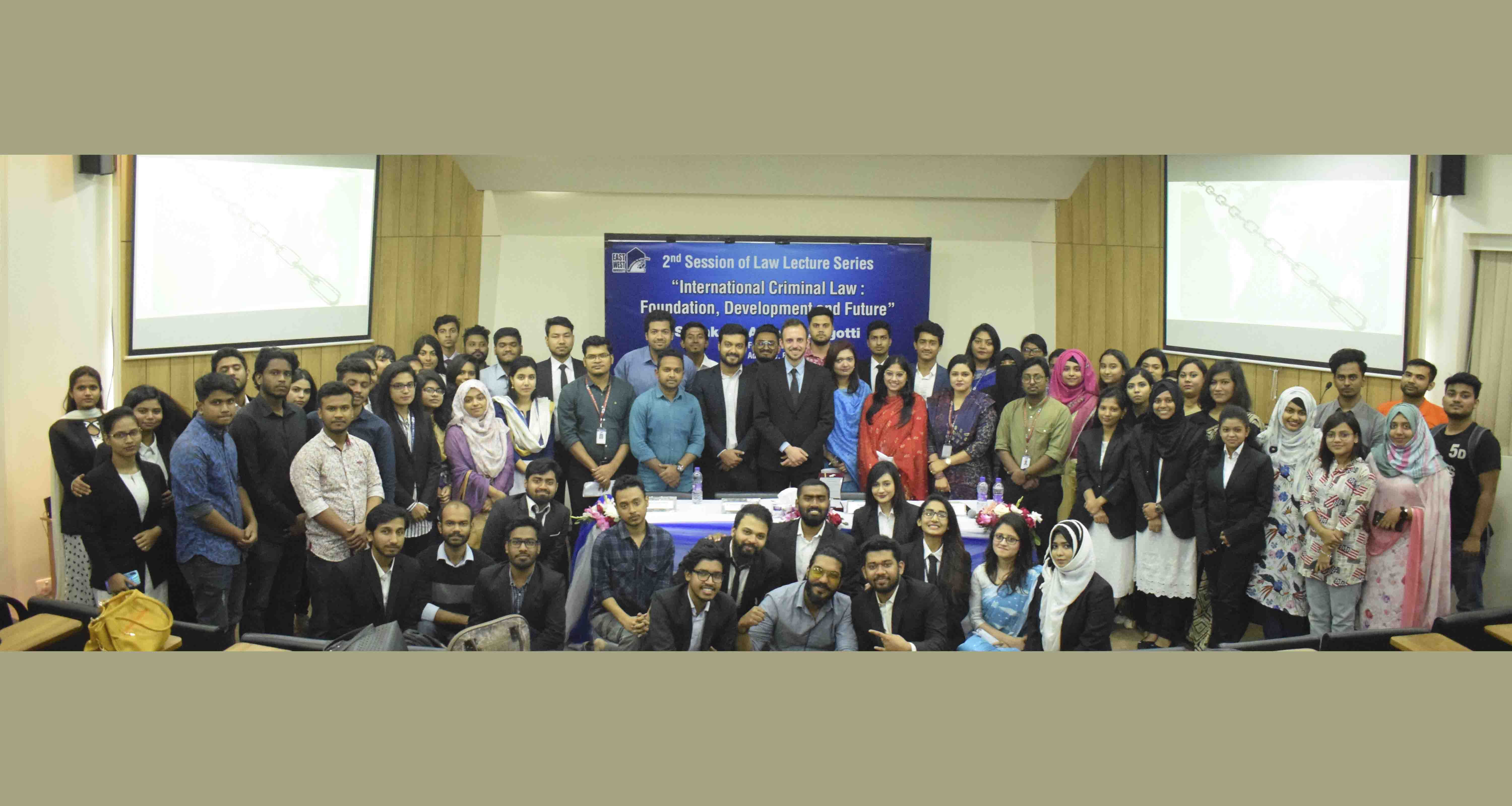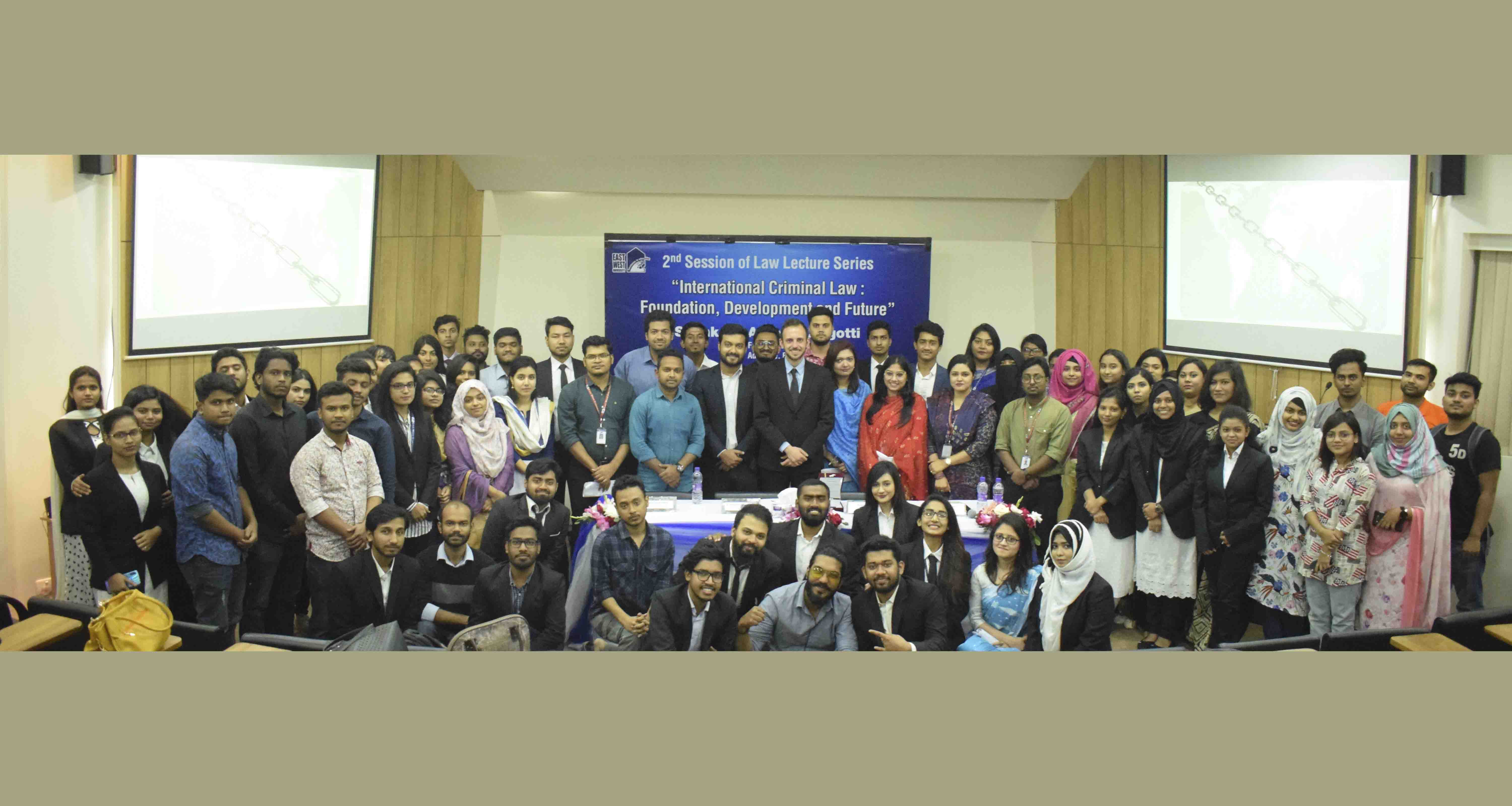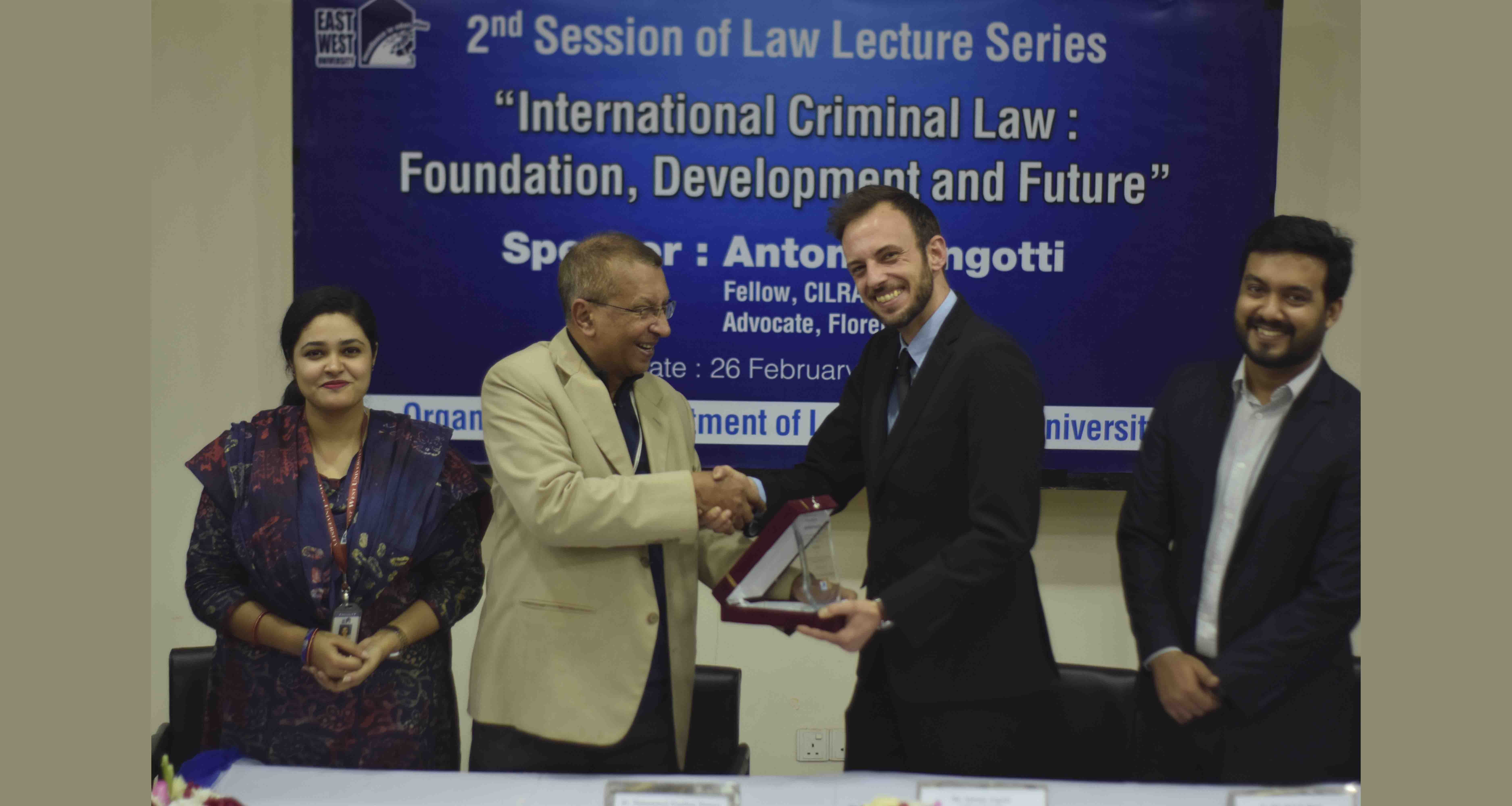 A lecture on the basics of International Criminal Law, International Humanitarian Law and the cruelty of genocide having the title was held on February 26, 2020 at SM Nousher Ali Lecture Gallery, East West University. It was the 2nd session of the Law Lecture Series, organized by the Department of Law, East West University, which was started as a part of its endeavor to introduce its students to the legal scholars, experts and practitioners from home and abroad with a view to enlighten the students about various issues and areas of legal study. This time Mr. Antonio Angotti, Fellow, Center for International Law Research and Policy (CILRAP) and Advocate, Florence, Italy conducted the lecture as the Head Speaker. His main fields of interests are International Criminal Law and the democratization of International Law. He shared his knowledge that he gained through his experience and research with the present students and other guests and faculties through his lecture which lasted for about forty minutes and then a question-answer session was held.
The lecture focused on an understanding of the basics of Criminal Law and also of Criminology. While explaining the background, development and implementation of International Criminal Law, Mr. Angotti beautifully demonstrated the relationship between domestic and international criminal law and explained that both begin from individual subjective responsibility which means will is an important element of criminal law. To meet the ends of justice, proper enactment and implementation of law is very important. At the same time, to prove one guilty of an offence, it is important to prove his or her guilt beyond reasonable doubt to ensure justice. This says that criminal law does not work only to punish criminals and compensate the victims, but it works to ensure fair justice through providing certain rights to the accused at the same time. When talking about genocide, he commented that it is the crime of all crimes which targets a particular group of society for personal gain and added that no religion supports aggression. While comparing the different legal systems existing in the world at present, he tried to add a new dimension to the existing perspective regarding International Criminal Law. The lecture was organized in order to encourage the audiences towards building a global community which would be build a strong chain irrespective of religion, race, caste and sex. More than hundred students attended the lecture including other Faculty members.
The lecture was graced by the presence of Dr. Muhammad Ziaulhuq Mamun, Pro-Vice Chancellor, East West University as the Chief Guest. The program was chaired by Dr. Mehedi Hasan, Assistant Professor & Chairperson, Department of Law, East West University. The distinguished speaker, guests and audiences were greeted by Dr. Nabaat Tasnima Mahbub, Assistant Professor, Department of Law, East West University. At the end of the session, the vote of thanks was given by Ms. Monira Nazmi Jahan, Senior Lecturer and Convener of the seminar committee, Department of Law, East West University.