Fact-checking's Crucial Role in the Digital Age: Key Speakers Emphasizes at Global MIL Week 2023 Closing Seminar Organized by Department of Information Studies, East West University
---
Nov 09, 2023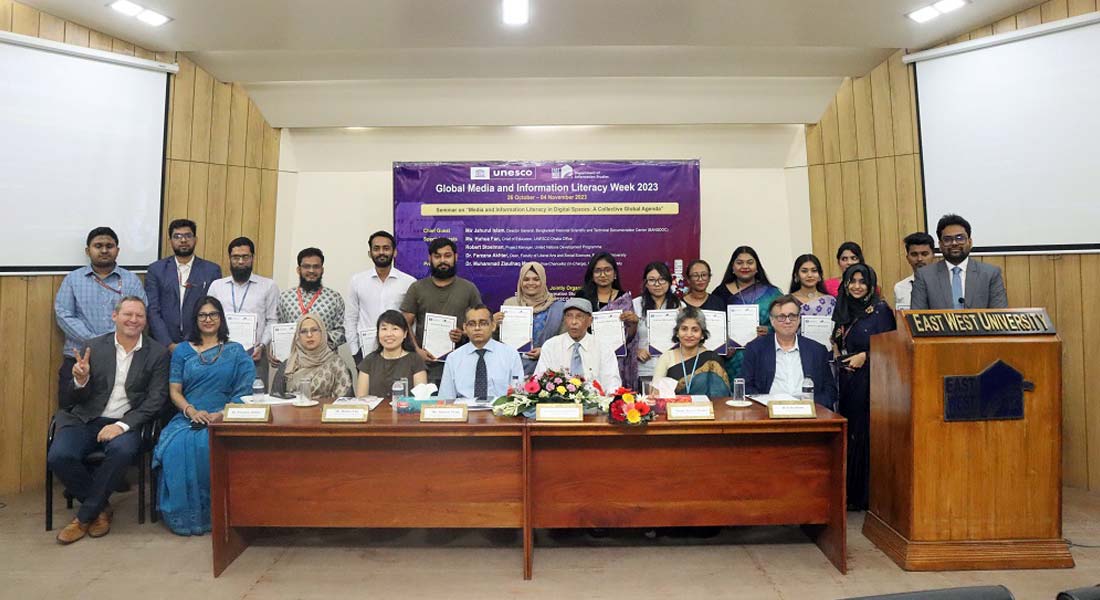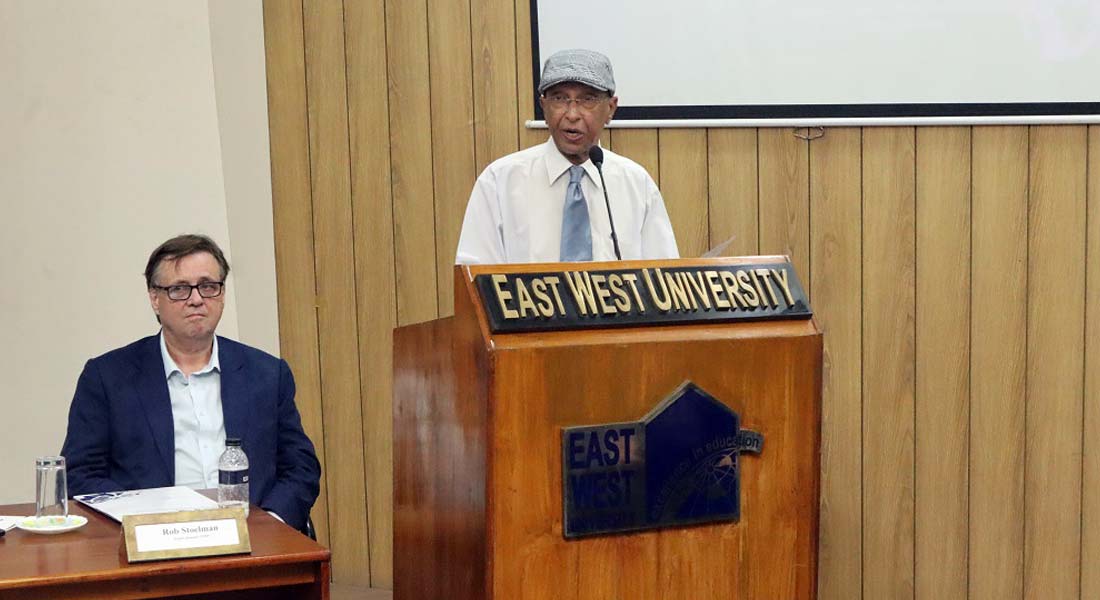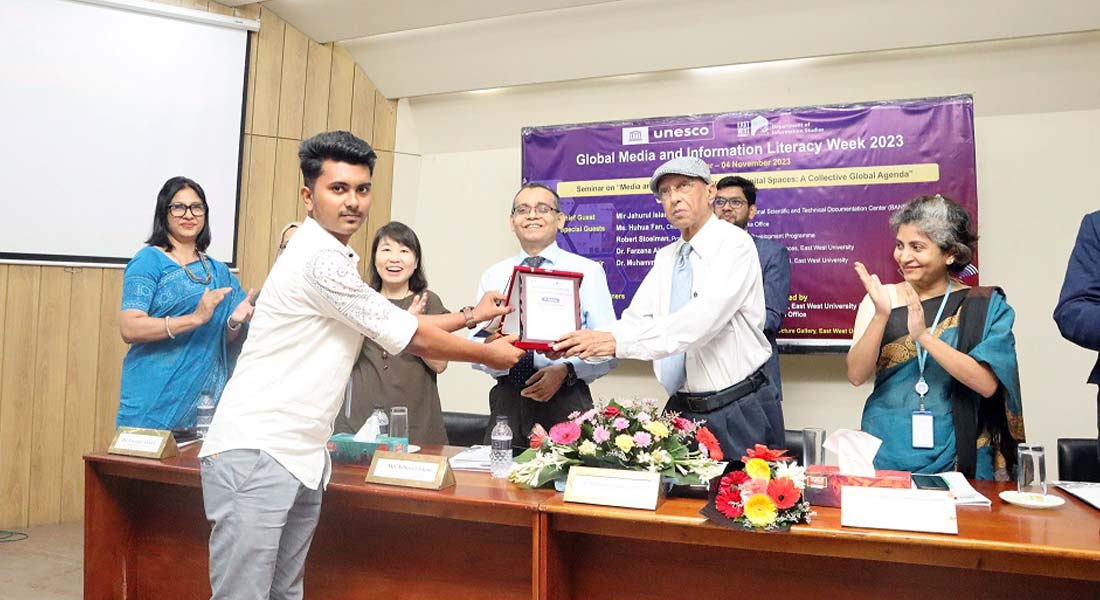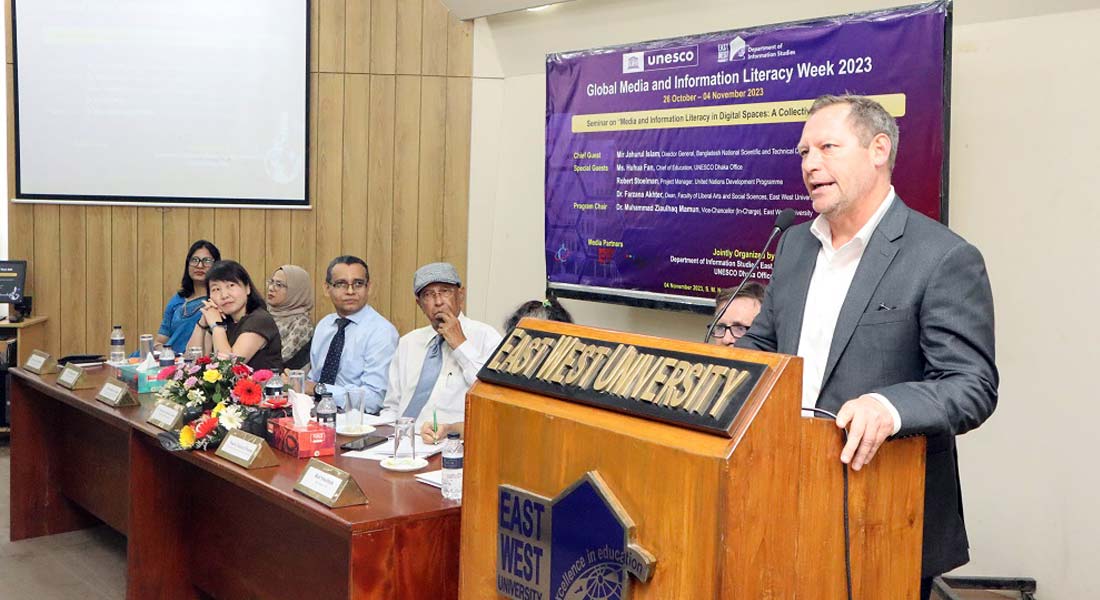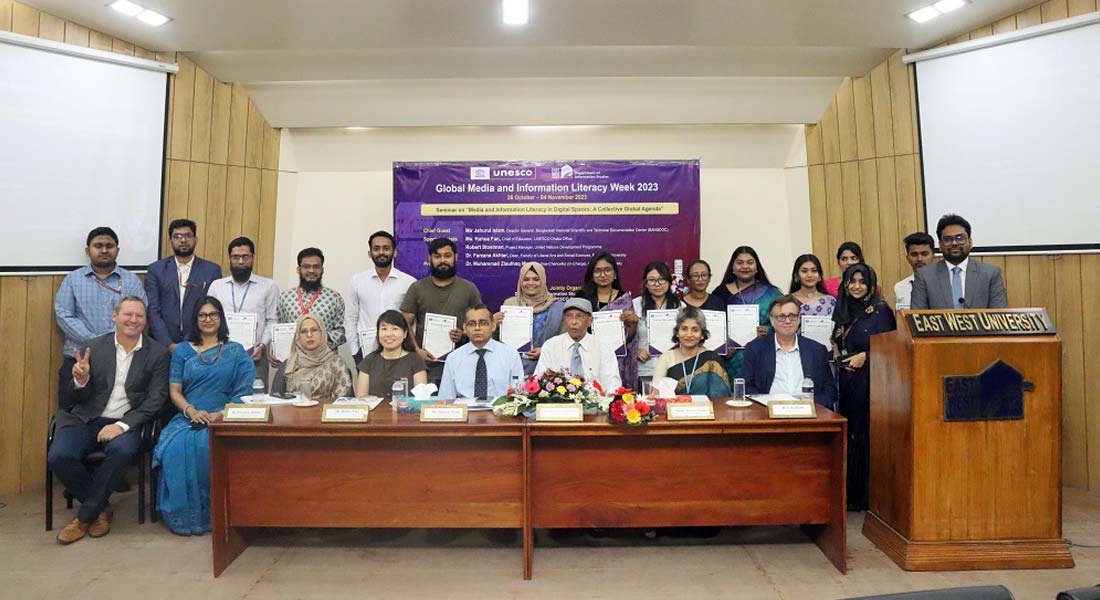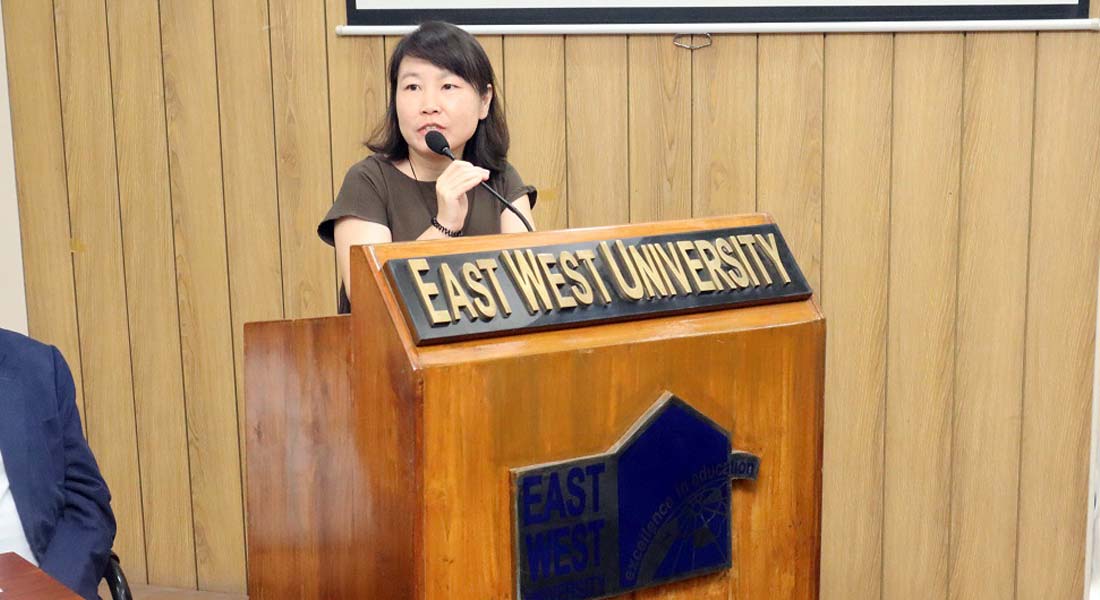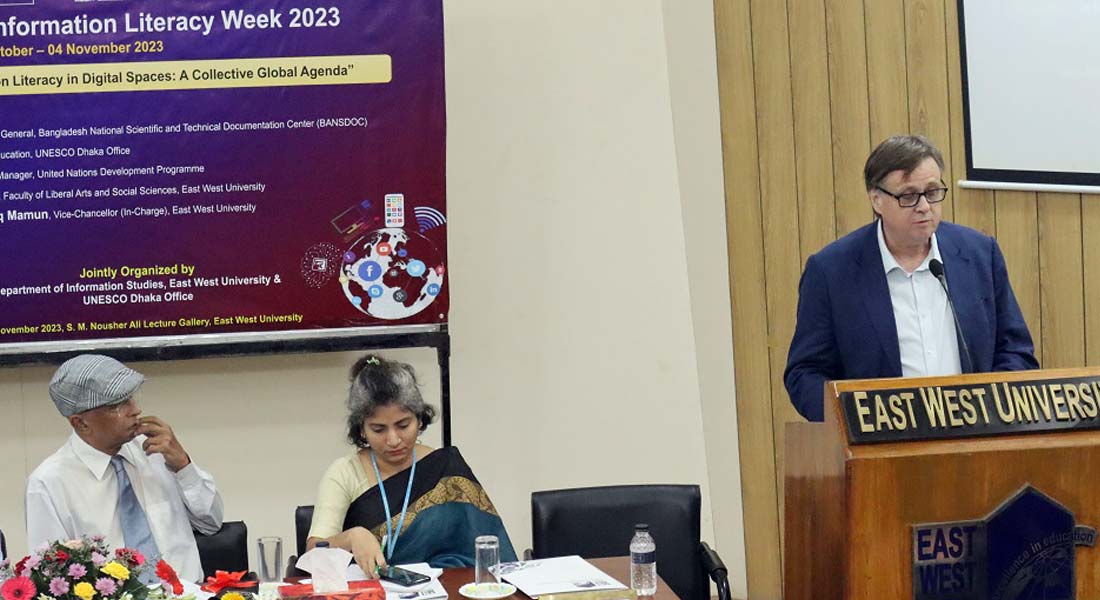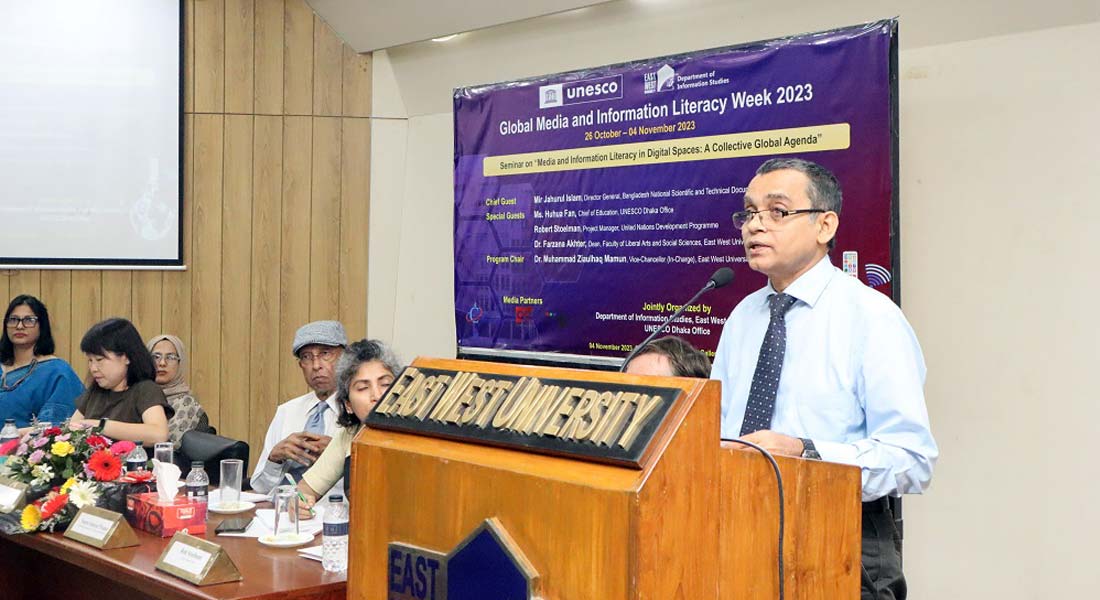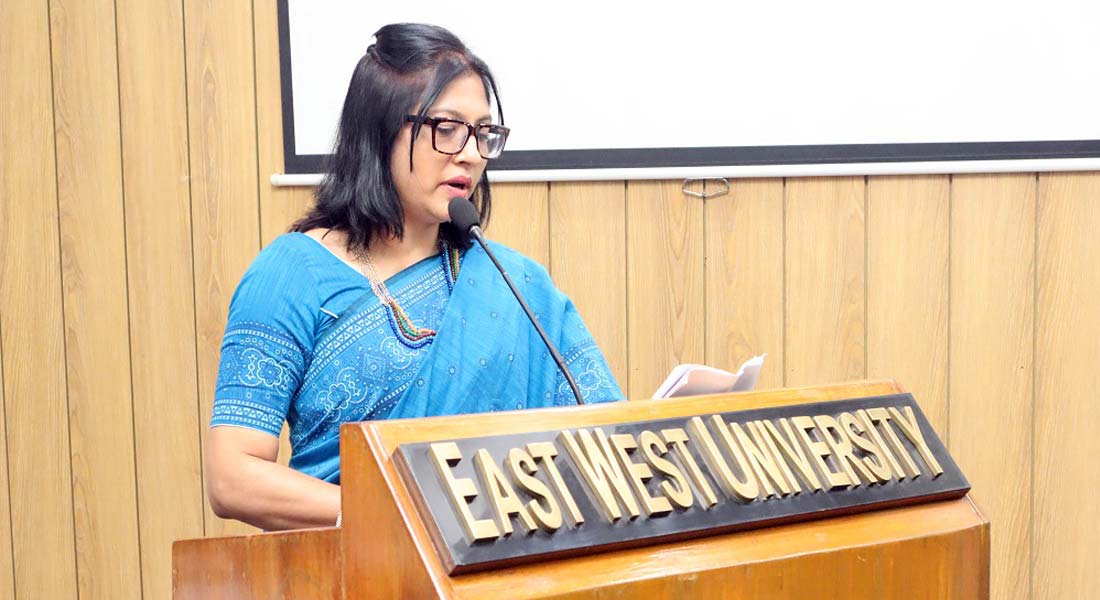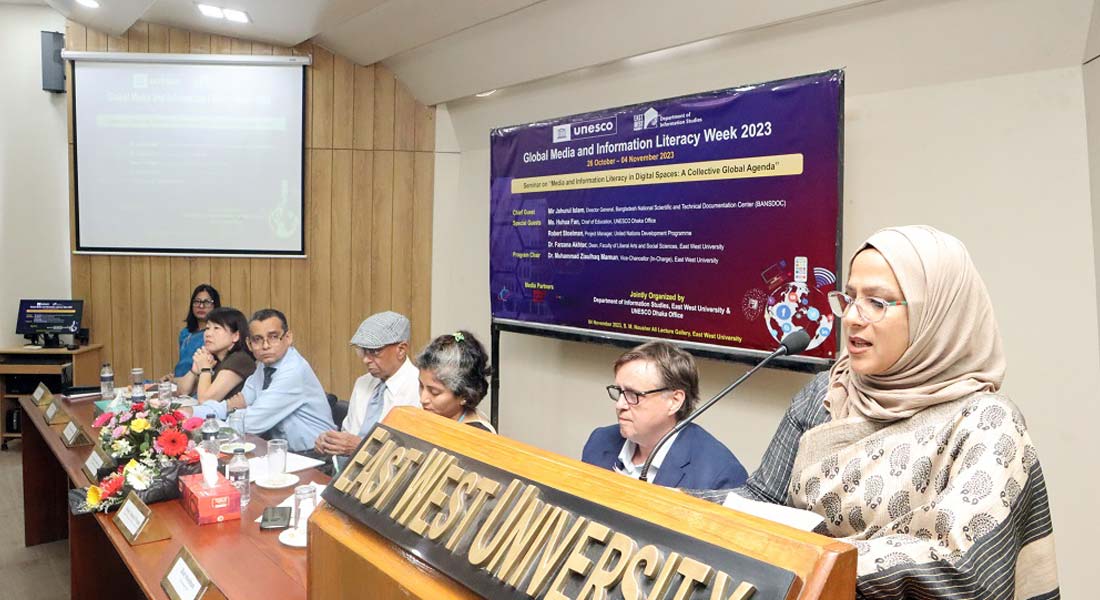 With the seminar titled "Media and Information Literacy in Digital Spaces: A Collective Global Agenda", the closing ceremony of the Global Media and Information Literacy (MIL) Week 2023 was held on today, 4th November 2023 at East West University. Department of Information Studies, East West University and the UNESCO Dhaka Office jointly organizing and celebrating this years' Global MIL Week.
Robert Stoelman, the Project Manager at the UNDP; Dr. Farzana Akhter, the Dean of the Faculty of Liberal Arts and Social Sciences at East West University, and Huhua Fan, the Chief of Education at UNESCO Dhaka Office graced the seminar as the Special Guests. The chief guest of the seminar was Mir Jahurul Islam, the Director General (Addl. Secretary) of the Bangladesh National Scientific and Technical Documentation Center (BANSDOC).
Dr. Muhammad Ziaulhaq Mamun, Vice-Chancellor (In Charge), East West University Chaired the seminar. Dr. Dilara Begum, Associate Professor and Chairperson, Department of Information Studies welcomed all the guests and audience in this seminar. Noore Jannat Proma, Communication and Information Officer, UNESCO Dhaka office shared the opening remarks. Among others, Stephen Ibelli, Public Affairs Counselor of US Embassy joined the discussion along with faculty members; students; information professionals; government officials and media personnel.
During his remark, Robert Stoelman recommended on providing training and capacity-building programs for journalists, content creators, and digital platforms to ensure responsible and ethical content production including fact-checking. He mentioned, `MIL is crucial in preventing the spread of misinformation and promoting responsible digital behavior.''
Huhua Fan shared, ``We face a paradox, however, in the digital age, democracy and cultural diversity have flourished, but so have misinformation and hate speech, especially in global conflicts. Media literacy is now vital for tackling this challenge in the 21st century.''
Mir Jahurul Islam emphasized the connections in-between the Media and Information Literacy and the "Smart Bangladesh Vision 2041" of the Government of Bangladesh aiming to transform the country into a technologically advanced and sustainable society.
Noore Jannat Proma mentioned, ``UNESCO looks forward to working with partners like East West University to explore the possibility of transforming Dhaka into one of the 'MIL Cities', which is an innovative way to promote media and information literacy learning in physical and virtual spaces.''
Dr. Muhammad Ziaulhaq Mamun appreciated the vibrant participation of the students on this occasion and congratulated everyone while sharing the concluding remarks.
Dr. Dilara Begum, the convener of Global Media and Information literacy Week 2023, in her speech, thanked the university authority and UNESCO Dhaka Office for their immense support in organizing this event.
As part of a week-long celebration, this year Department of Information Studies, East West University with the UNESCO Dhaka Office organized a set of diversified programs including a campaign both on campus and through social media platforms, a workshop for developing skills of students regarding identifying fake news and mitigating hate speech, seminars etc. It is worth mentioning that Department of Information Studies, East West University is celebrating this global event since 2017.
The discussants shared their valuable insights and experiences on the issues and highlighted the pressing need on Media and Information Literacy (MIL) literacy for all to enable people's ability to think critically and click wisely. At the end of the seminar, there was a certificate-giving ceremony as well. The seminar was moderated by Abdur Rahaman Sumon, Senior Lecturer, Department of Information Studies, East West University, Dhaka.