The FinTech Week 2021- A Series of Learning Festival for Finance and Technology Enthusiasts
---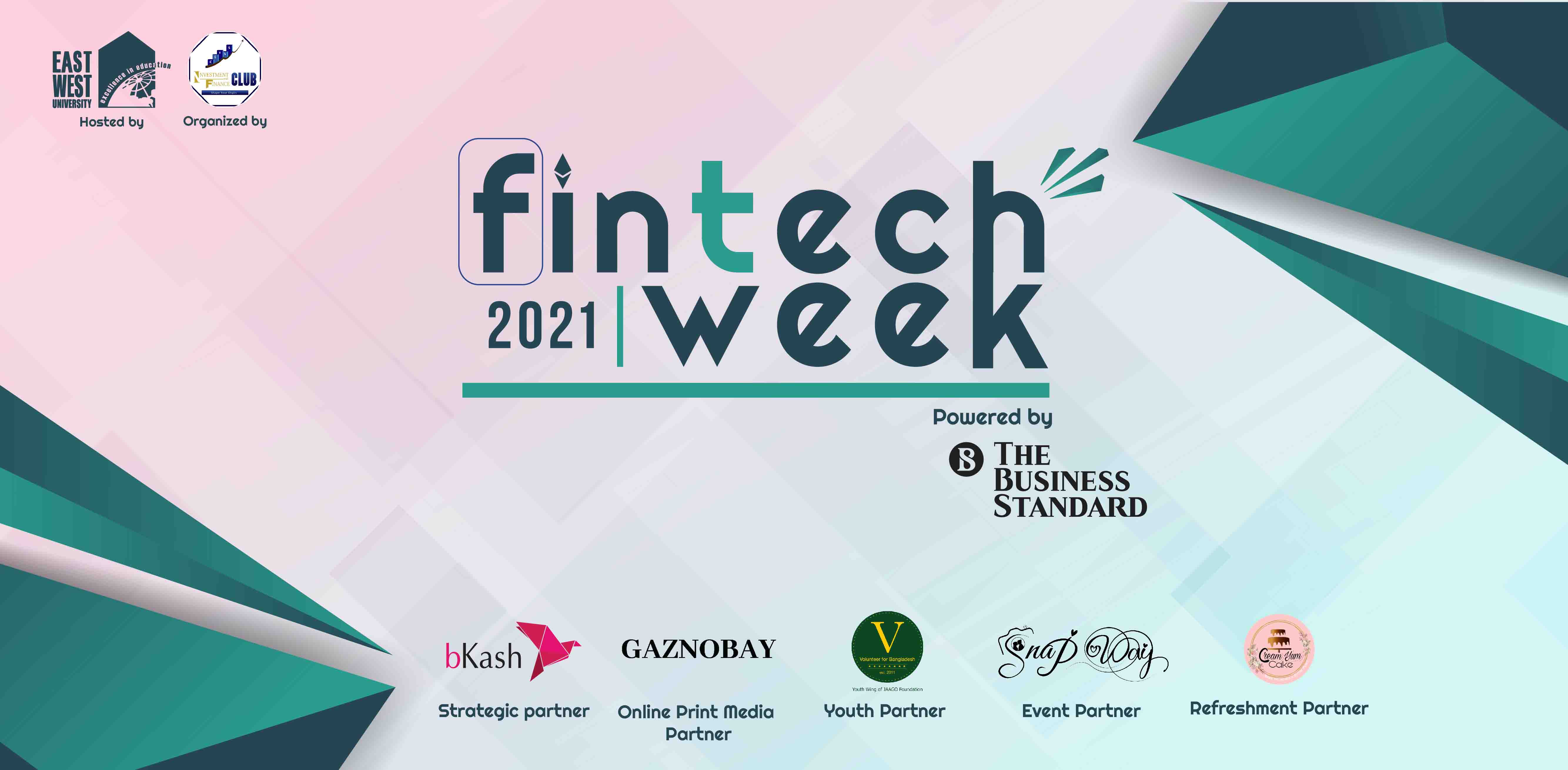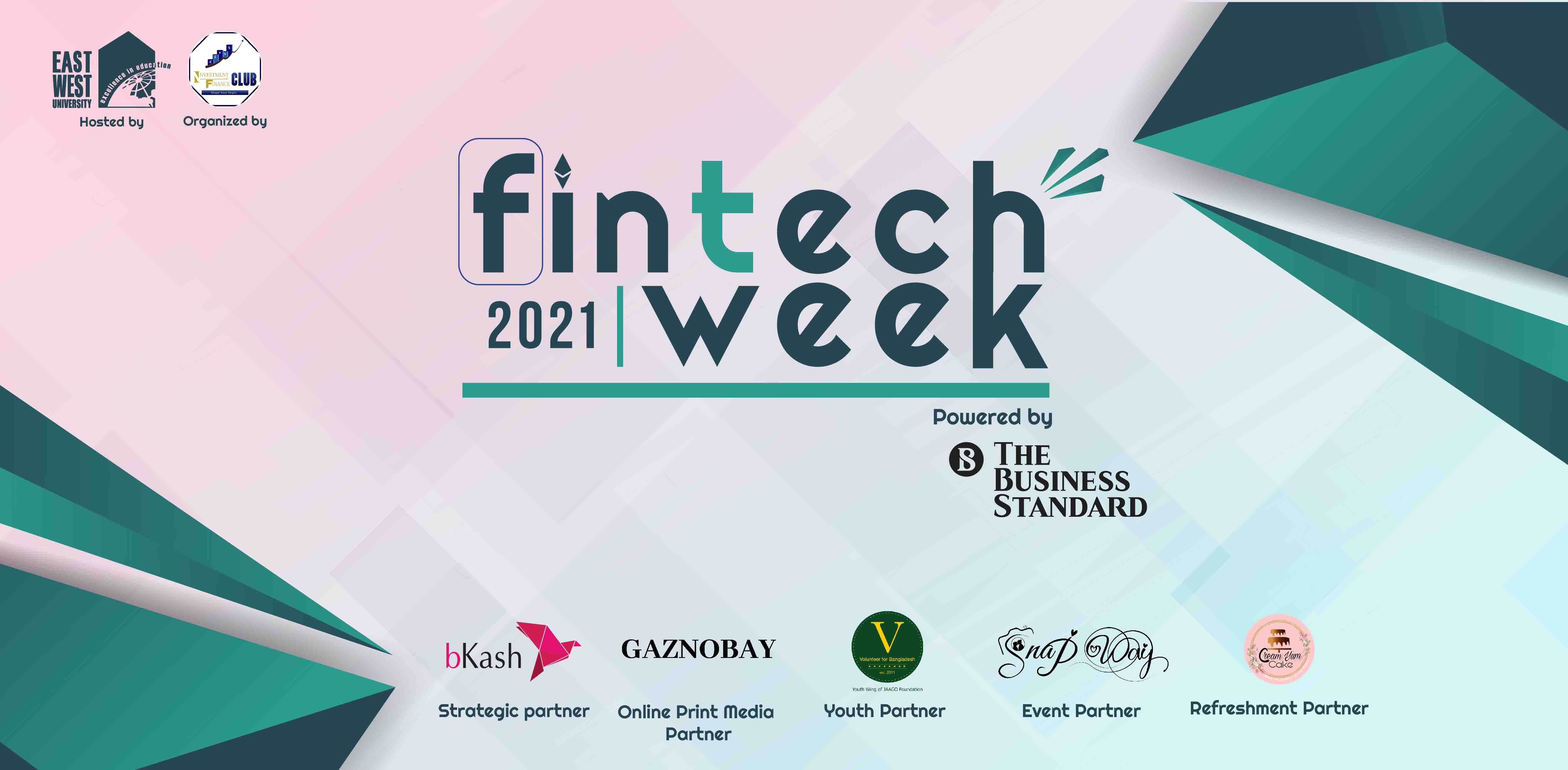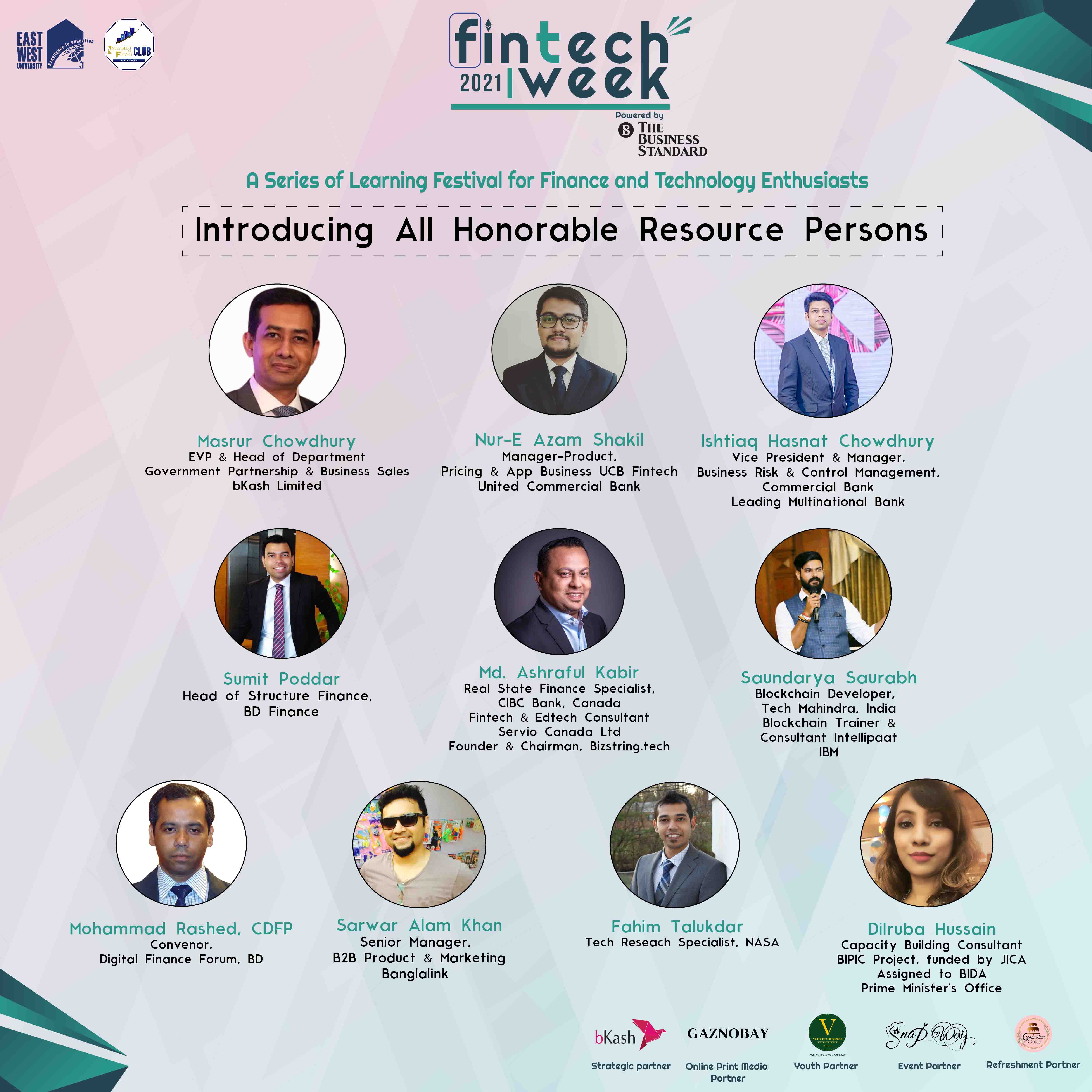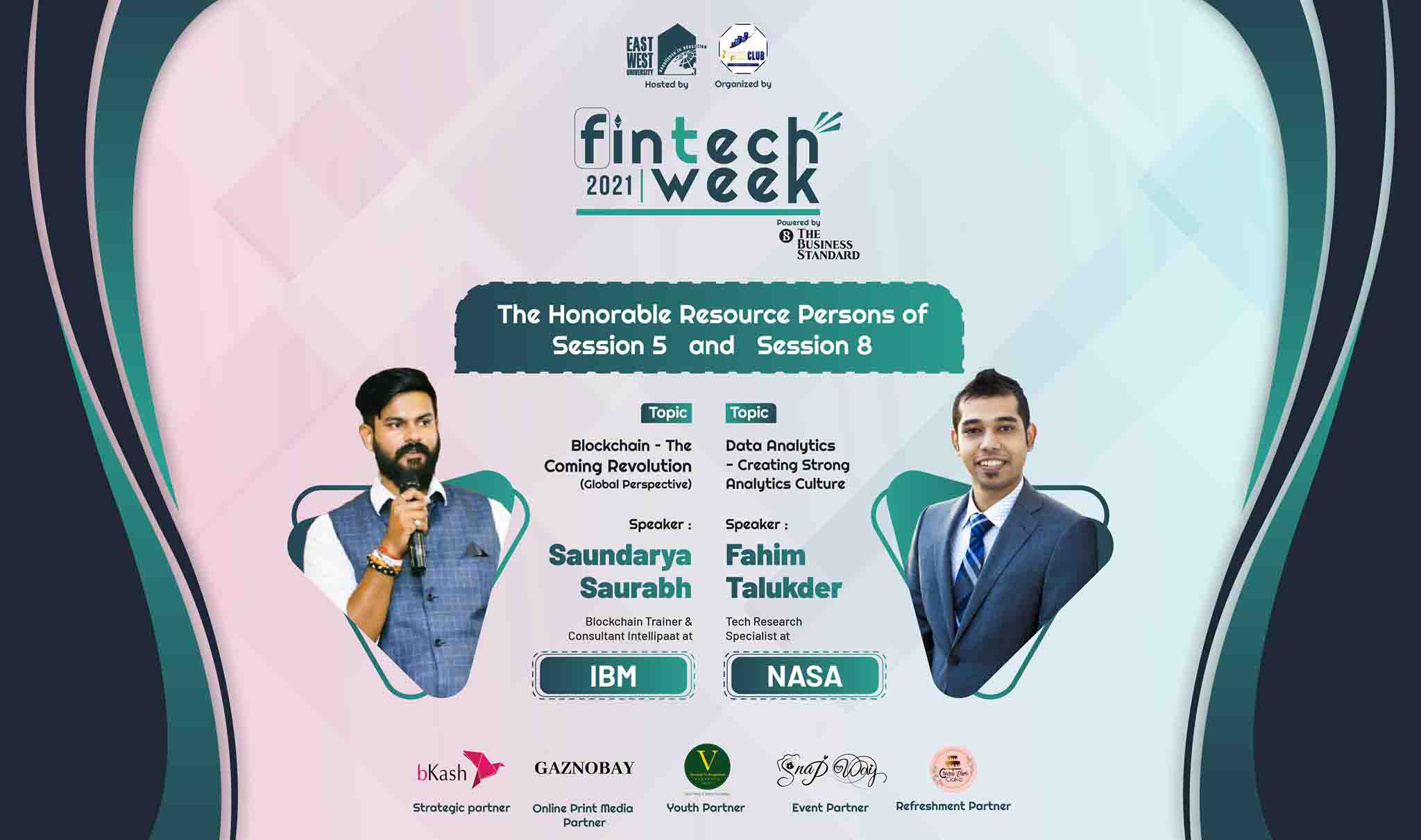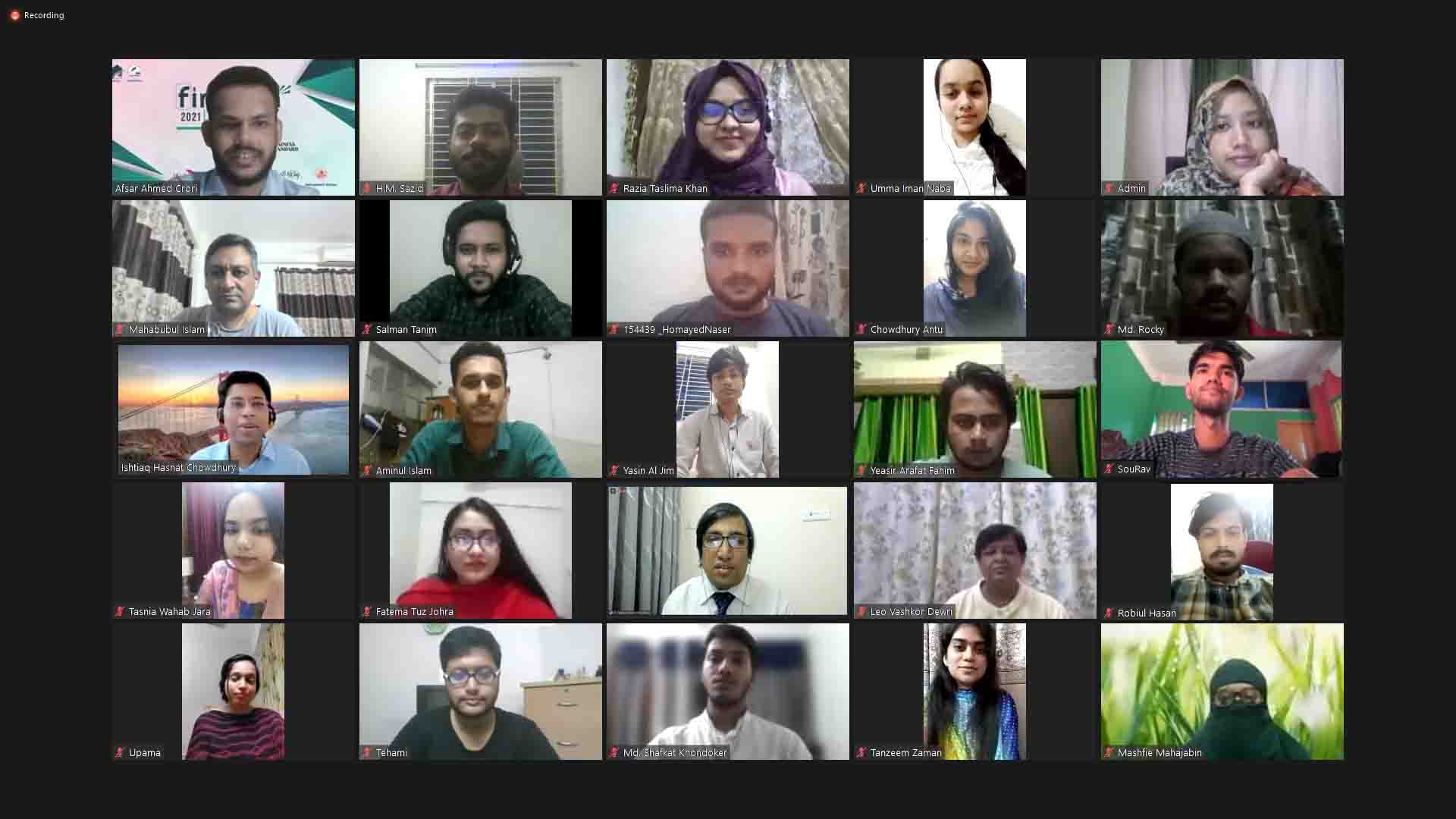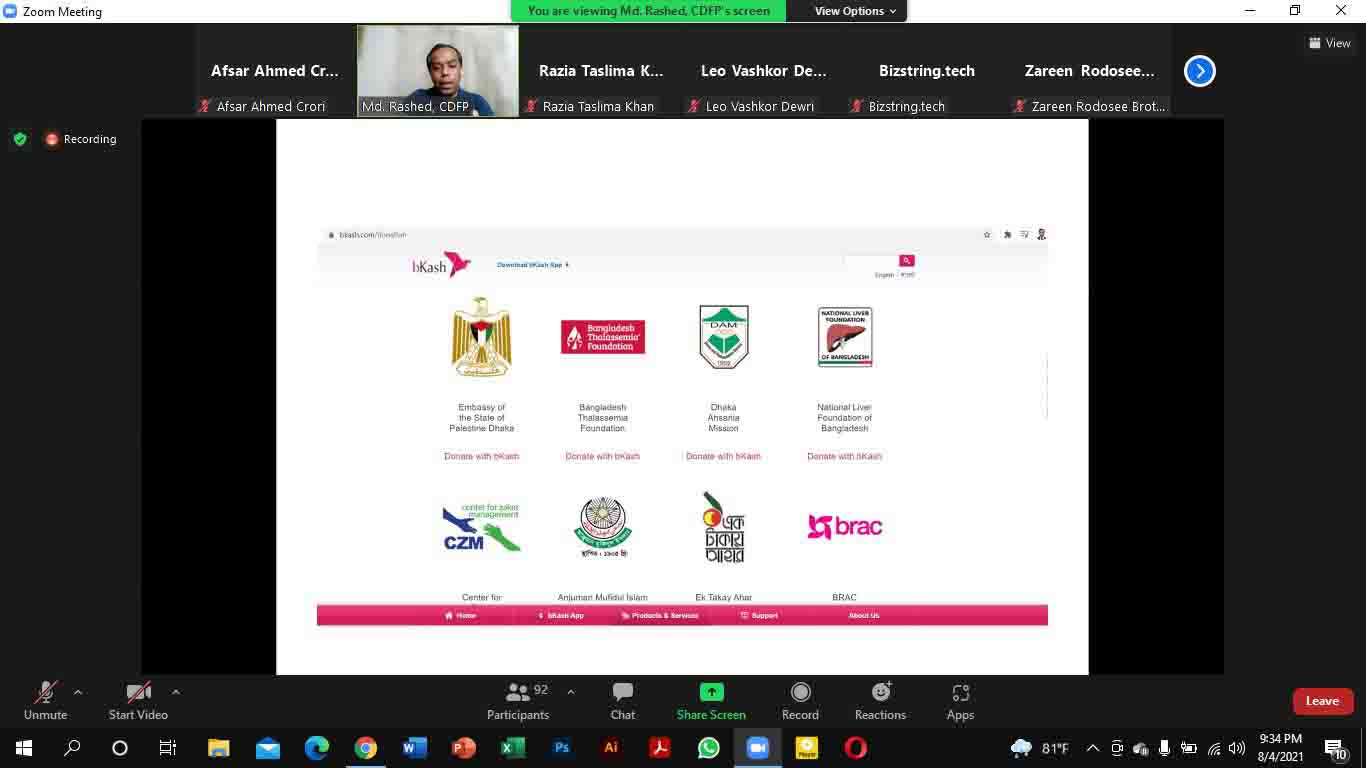 To commemorate Club's 5th year of thrive with a series of learning festival, East West University Investment & Finance Club fortuitously launched the nation's biggest virtual
knowledge sharing event of the season 'The FinTech Week 2021 – A Series of Learning Festival for Finance and Technology Enthusiasts' from August 3, 2021 to August 5, 2021. Around 200+ students and young professionals from 10+ prestigious public, private and national universities all over the country registered for the event. The FinTech Week 2021 was a 3-day long event divided into 9 consecutive sessions in diversified fields where each day included three incredible sessions covered by the FinTech industry experts across the globe. Participants got certificates for participating in the knowledge-sharing virtual seminar.
The program started with the Opening Ceremony which was held on August 3, 2021. The Special Guest of the Opening Ceremony of The FinTech Week 2021 was Dr. Tanbir Ahmed Chowdhury, Professor of Finance, Department of Business Administration, EWU. Also, Guest of Honor of the Opening Ceremony was Leo Vashkor Dewri and Fatema-Tuz-Johora, Moderator of East West University Investment and Finance Club. Three of the most radically qualified and reputable Resource Persons conducted the first 3 sessions which was held on August 3, 2021. The very first session 'Future of Digital Payments' was conducted by Mr. Masrur Chowdhury, Executive Vice President, Head of Department, Government Partnership & Business Sales, bKash Limited .The second topic 'The Growing Digital Momentum' was conducted by Mr. Nur-E-Azam Shakil, Manager, Product, Pricing and App Business, USB FinTech, United Commercial Bank Limited. At last, Mr. Ishtiaq Hasnat Chowdhury, Vice President and Manager, Business Risk and Control Management, Commercial Banking, Leading Multinational Bank conducted the session by presenting insights on how banking industries can engage themselves in technological field for future endeavor.
On Day 2, four of the top-notch National and International Corporate leaders of FinTech Industry were there to carry out the fourth, fifth and sixth sessions which was held on August 5, 2021. The topic for the fourth session was 'Future of FinTech Startup in the Emerging Market of Bangladesh. The speaker for the session was Mr. Sumit Podder, Head of Structure Finance, Bangladesh Finance. He inversed mainly on how an entrepreneur can start his startup journey and what will be the future in the emerging market of FinTech. 'Blockchain- The coming Revolution' was the fifth topic of The FinTech Week 2021 which was covered by two International Resource Persons. The first International Resource Person was Mr. Saundarya Saurabh, Blockchain Developer, Tech Mahindra- India, Blockchain Trainer & Consultant Intellipat, International Business Machines (IBM). The second International Resource Person for the session 5 was Mr. Md. Ashraful Kabir, Real Estate Finance Specialist, CIBC Bank Canada, FinTech & Edtech Consultant, Servio Canada Ltd., Founder and Chairman, Bizstring.tech.

On the last and final day of The FinTech Week 2021, another three fundamentally eloquent and qualified Resource Persons from prestigious industries were there throughout the sessions. The topic for session 7 was "Digital Transformation." The Resource Person for this session was Mr. Sarwar Alam Khan, Senior Manager, B2B Product and Marketing, Banglalink. He shed lights on the basic concepts of digital transformation. Mr. Fahim Talukder, Tech Research Specialist, National Aeronautics and Space Administration (NASA) conducted the next topic "Data Analytics- Creating A Strong Analytics Culture The last session of The FinTech Week 2021 'Skills required for building Career in FinTech Industry' was conducted by Mrs. Dilruba Hussain, Capacity Building Consultant, BIPIC project, funded by JICA, Assigned to Bangladesh Investment Development Authority (BIDA), Prime Minister's Office. From starting to end, "The FinTech Week 2021" was intuitive, delightful and enchanting. East West University Investment & Finance Club will continue its legacy to serve the club with its purpose of delivering more opportunities for its fellow students.